A history of the Dust Trail on the former Fort Ord

Compiled by Fred Watson, PhD
Copyright (C) F. Watson. Last updated: 8 Jan 2022.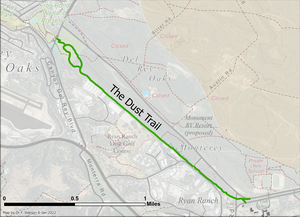 The Dust Trail is an approximately 1.75 mile long foot trail that runs between Frog Pond Wetland Preserve and York School along the Army side of the fence line that formerly indicated the perimeter of the Fort Ord military base.
It was built in around 1960 and has been continuously used ever since. Recreational use dates at least back to when Fort Ord was closed, and possibly earlier, judging by aerial photographs and county planning documents from 1971 and 1984.
The land through which the trail runs is mostly owned by the City of Monterey, with portions owned by the City of Del Rey Oaks and the Monterey Peninsula Regional Park District.

The name "Dust Trail" probably originated at York School. The trail is extensively used by the York athletic teams for running training, as well as for hiking and other activities. It is the "gateway to nearly every run" the cross-country team does - a "linchpin" of the highly successful team's program. (pers. comm. by principal Chuck Harmon in 2017 and again in 2022 by athletics coaches Steve Peters and Dr Jeff Hanna.)
The trail is a favorite of many members of the general public. It offers unique views and up-close experiences with maritime chaparral and a charming pine forest. Underfoot the terrain is mostly flat underlain by a firm but soft dust that gives the trail its name. Some variety is provided by some short steep rock sections in a few spots.

There are several ways to access the trail. Users can embark on a Dustr Trail hike or jog from locations such as Frog Pond, South Boundary Road near York School, Ryan Ranch Disc Golf Course, or the Ryan Ranch Business Park area.
Timeline: